Our Focus: The Law of Intellectual Achievement!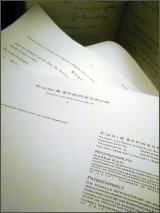 Our legal representation and advice is keenly focused on intellectual property.

Naturally, we have an international focus in our work that goes beyond the European context. To this end we cooperate with a number of similarly oriented law firms in other countries, firms who we have known well for a number of years. Thus, besides our European contacts we have a history of cooperation with firms in the U.S., the Far East, Australia and Brazil as well as various countries in the Near and Middle East, where a number of our clients come from as well.

In addition to our main focus patent litigation shared by both partners and already mentioned on our home page, a further professional core area of activities is the legal protection of softwarei that is handled mainly by Dr. Springorum both in aspects of copyright as well as patent law. License contract law is also one of his preferred areas. Furthermore, Prof. Kiani, is also focused on trademark law and design protection. We also represent clients in legally difficult appeals in courts challenging IP-offices decisions. In strategically important business cases , such as the construction, design or introduction of important new products, or in legally difficult cases which are of significant importance for a company, e.g. problematic issues regarding patent protection of software, we do also the coordination of patent prosecution procedures in the overall context of comprehensive strategic legal advice, and, maybe in cooperation with external or in-house colleagues. In addition to the above-mentioned areas, we also advise and represent clients in related fields of intellectual property, including unfair competition law.

Our clients are both well-known medium-sized enterprises (so called hidden-champions) as well as large corporations, from industry (such as plant construction, machine tools and primary-materials industries) on the one hand, and from the services sector on the other, e.g. the banking industry or the media sector, where in addition to legal problems of trademark and competition law, more and more questions of patent law and software protection arise in view of the information technology used. In this context we handled a number of important patent litigation cases, e.g. patent cases regarding Interactive Television.

In addition to the relevant scientific and professional qualifications of our attorneys, our case management is backed by a comprehensive, academic library containing several thousands of volumes that covers all relevant fields of law, and which provides access to a variety of current judicial and science/technology databases, all in the service of our discerning and primarily internationally-oriented clients.