Our Attorneys: Experienced Professionals!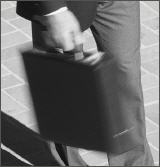 We are a small patent/law firm, but dedicated to the concerns of intellectual property issues of exacting internationally-oriented clients, with two partners possessing several years of practical experience – especially in the handling of complex patent disputes and other complex legal issues in the field of intellectual property – as well as a sophisticated standard of the practice of law. Accordingly, our attorneys are fully focused on strategic and legal issues, such as conducting or coordinating legal procedures as well as gving legal advice in the development of patent portfolios.

Nevertheless, our concept of success, which we have been pursuing since starting our law practise and which consists of truly integrated patent and general legal case management for our clients, results in a single source concept of advice and representation in intellectual property matters while demanding extensive professional and academic qualifications from our team of patent attorneys and attorneys-at-law. Thus, besides our legal practice we have several professional and academic qualifications in the field of intellectual property. Both partners have a French university degree from the University of Strasbourg (DESU sur le Contentieux des brevets en Europe) in the field of European patent litigation. Mrs. Prof. Kiani (Rechtsanwältin) who turned to law after studying physics, is also a Fachanwältin für gewerblichen Rechtsschutz (specialist attorney in intellectual property law), while Dr. Springorum (Patentanwalt) is also a Master of Laws (LL.M.) graduate of the European Industrial Property Law program and also holds a master level degree (Dipl.-Imform.) in computer science from RWTH Aachen (Technical Univerity of Aachen).

Both partners underscore their academic background as long-time lecturers in intellectual property law at the law faculty of Heinrich-Heine University in Düsseldorf, while simultaneously also serving as Chargé d'enseignement en droit des brevets européen and presently lecturing in European patent law at CEIPI at the University of Strasbourg, as well as being speakers at numerous events and authors of the regular column Neues aus dem Bereich der Patent Litigation [News From the Field of Patent Litigation] in the prestigious journal Mitteilungen der deutschen Patentanwälte [Notices of German Patent Lawyers]. Both partners are also members of numerous professional and scientific associations. Please find relevant personal information in the details for Rechtsnwältin Prof. Kiani and Patentanwalt Dr. Springorum.